The Ontario Processing Vegetable Industry Bursaries were established by the Ontario Processing Vegetable Growers (OPVG) and the Ontario Fruit & Vegetable Processors Association (OF&VPA). This bursary fund is intended to support and encourage individuals pursuing a career in any aspect of the processing vegetable industry. These organizations find value in working together to ensure that there are new individuals who will have the interest, skills, and abilities to further develop and grow this sector of Ontario's agri-food economy
Sponsor donations allow the OPVG and the OF&VPA to offer up multiple bursaries of $2,000 each year. The Jim Whitson Memorial Bursary is given each year to a student attending the Ridgetown Campus. The Ken Epp Memorial Bursary winner receives an additional $1,000 from a fund established in Ken Epp's name. Additional industry bursaries are offered each year to deserving individuals. Since its launch in 2001, the bursary program, in an effort to support the agriculture leaders of tomorrow has provided $185,000 to deserving individuals serving in the field.
Bursary Eligibility
Applicants must be a resident of Ontario and registered as a full-time student at any college or university entering the second, third, fourth or post-graduate year of study which relates in some aspect to the processing vegetable industry.
Bursary Application
A call for applications for the Ontario Processing Vegetable Industry Bursaries will take place in the fall of each year.
Those wishing to apply can download the application form here or request a form from the OPVG office (519-681-1875).
Applications are accepted by regular mail at 435 Consortium Court, London, ON N6E 2S8, by e-mail at opvg@opvg.org, by fax at 519-685-5719.
The deadline for applications is October 15th, 2019.
2018 Bursary Winners
The Ken Epp Memorial Bursary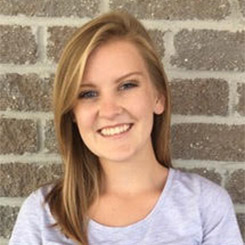 Congratulations to Sarah Furlan, recipient of the Ken Epp Memorial Bursary.
Sarah Furlan is currently in her second year of an undergraduate program at the University of Guelph and is pursing a Bachelor of Commerce – Food and Agriculture Business Major. She is also hoping to
Sarah is an exceptional person who has shown a true passion for the vegetable processing industry and is actively pursing a career in agriculture lending and finance. With this career she hopes to help facilitate agriculture by assisting new/young farmers get started, as well as helping established farmers expand. She is an ambitious member of her community and an advocate for the agriculture industry, as shown by her future goals to engage rural youth in standing up for their beliefs and educating non-rural youth about modern farming practices.
Having grown up on her family farm which grows a variety of processing crops for multiple processors, Sarah has a strong understanding of the industry and the way in which the production chain contributes to the economy and the employment opportunities it offers at every level. A few of her many volunteer and work contributions in connection with her community include: volunteering with Chatham Kent Learning Disabilities Association, working at the local Pickle Station, acting as an ambassador for the Comber Fair, sitting on a board at Guelph representing the 2021 agriculture program, and has helped in coordinating countless charity fundraisers including, Halloween for Hunger and Tractor Tug for Tots.
The Jim Whitson Memorial Bursary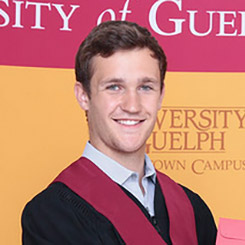 Congratulations to Noah Weber recipient of the Jim Whitson Memorial Bursary.
Noah is currently in his second year of the Agriculture undergraduate program at the University of Guelph, Ridgetown Campus. He is applying to Old's College in Alberta to pursue a degree in Agribusiness where he can have the opportunity to participate in a Co-op that directly relates to learning about the tissue cultures his family farm uses to produce fruit trees. He is also planning to apply for a master's degree in Horticultural Science which will focus on advancing his knowledge of the biological, genetic and molecular basis of plants, and disease development, plant pathogen interactions, and understanding their coevolution.
Noah is a dedicated individual who is actively pursing an education to gain skills in the science of growing crops to enter the agriculture industry with specialized knowledge. Passionate about furthering the industry and recruiting highly qualified young people, Noah wants to visit high schools to speak and encourage students to consider the science packed world of agriculture. He believes that these individuals could bring tremendous benefits to the industry.
Living in farming communities his entire life and working in the fruit tree propagation and orchards industry he knows what it means to work hard, and the long hours farmers put into their work. Carrying that same motivation Noah has been highly involved in his work and volunteerism, taking on roles such as: a peer helper to first year university students, participating in the Ag Diploma Industry Advisory Committee, leading numerous children's sports and camp opportunities, and researching a BioPlug for use in the production on tomato seedlings.
The Ontario Processing Vegetable Industry Conference (OPVIC) Bursary
Congratulations to Christine Ngo and Ryan Mckerrall our recipients of the Ontario Processing Vegetable Industry Conference Bursary.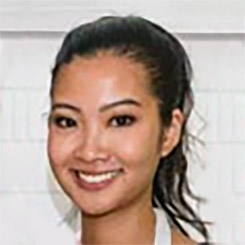 Christine Ngo finished her final year at Ryerson University in the Nutrition and Food Program. Having a previous Bachelor of Science degree in the Honours Life Science Program at McMaster University, Christine is well versed in the health effects of food and its importance in our political, economical, and social structures. She is also attending the Dalla Lana School of Public Health at the University of Toronto in the MPH Nutrition and Dietetics Program in the fall.
Christine is passionate about opportunities to share knowledge of the quality and safety of crops grown in Ontario throughout her profession. In the future, she hopes to work with the Ministry of Education to implement mandatory nutrition courses into the Ontario curriculum that focuses on not only how to eat food but how food is grown and processed from farm to fork. She finds having youth tour local farms and processing companies and engage in cooking and gardening will help build long-term change.
Christine's work demonstrates a commitment to the distribution and education sectors of the agriculture industry. Working as a Farmer's Market Sales Associate and as a Promotion Coordinator at Tender Love and Carrot Juice Bar, where she promoted healthy living and eating locally sourced foods. She also volunteered within Loblaws stores with a dietitian to run food programs for diverse groups within the community.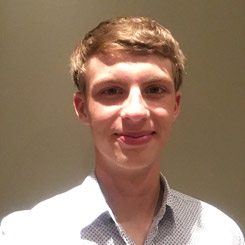 Ryan Mckerrall is currently a second-year student attending the University of Guelph – Ridgetown Campus, working towards a Diploma in Agriculture. Having farmed a variety of vegetable crops alongside his father, Ryan is looking forward to returning to the family farm to help expand the operation and putting his education to work in an off-farm Agriculture job.
Ryan is an exceptional individual dedicated to being actively involved in the farming community of Chatham-Kent, shown by is eight years of volunteer work for the Chatham-Kent 4-H Association. In his time, he has completed 36 projects ranging from life skills clubs to competitive agriculture clubs. His other volunteer involvement includes serving at the annual Lambton-Kent Agriculture in the Classroom gala to raise funds to teach agriculture in the classroom, and at Chatham Safety Village to teach children about farm safety.
Ryan has worked with multiple OPVG Vegetable Processors through his positions. Including working for Bonduelle, Hartung Brothers, and being a grower for Highbury Canco Corporation. Currently, Ryan is working for his local John Deere dealership helping the sales team with set up and deliveries, while also helping his father with their tomato crop. He enjoys the opportunity to meet local farmers and hear old stories of how farming happened back in the 70's, 60's and even the 50's. He would also like to keep his farm family owned and operated and plans to become the next generation after his father.
About the OPVG & OF&VPA
The Ontario Processing Vegetable Growers is a not-for-profit agricultural organization that represents nearly 400 Ontario vegetable growers producing crops for processing.
The Ontario Fruit & Vegetable Processors' Association is a non-profit organization representing processor businesses that make canned, frozen and pickled product for domestic and export markets in retail and food service.